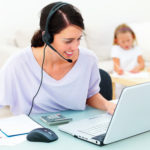 CDN VOIP Hosted PBX phone solution is always kept current so you do not need to be concerned about replacing outdated and obsolete equipment. Our solution delivers all the features of a traditional PBX phone system plus enhanced functionality and advanced calling features which are not available on the older systems. Your staff will enjoy the benefits of a cloud based communications solution, and your organization will enjoy more control over your communication with the flexibility it delivers.
Minimize
Costs
With CDN VOIP Hosted Phone Solution, there's no need to buy lines, or pay for North America Long Distance, lease or maintain an on-site phone system.
Simply choose the number of phones you need and the style of phone required for each user. Grow at your own pace and pay only for what you use.
Take Control of Your Business
The online administration portal makes it easy to manage your users, set up call groups, hunt groups, create a company directory and company-wide speed dials. You don't need specialized technical knowledge and you can say goodbye to pricey service calls.

Increase Productivity
Boost your staff efficiency with powerful new features & functionality including new web-based tools. The simple end-user portal provides call logs, preference-based call routing, visual voicemail, voicemail to email and twinning and many more features that add convenience and flexibility to your business.
Managed
Risk
Don't sink your capital into an on-site system that becomes outdated, underutilized or unreliable. Our service improvements are included with our hosted phone solution so you won't have to worry about technological obsolescence or costly repairs or upgrades.

Eliminate Maintenance
You will no longer have to manage the complexity of an on-site or system. Our technical support team is available each and every day, 24/7 TRC technical team and support personal will have you covered.

Seamless Transition
Keep your existing phone numbers for a seamless transit to our Hosted Phone Solution. Our professional support staff & technicians will get you up and running hassle free.